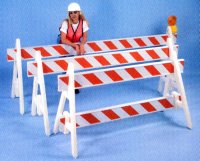 A-Frame Barricade & Boards
Need to close a road, lane or aisle? Protect a work zone? Bridge out, overturned truck, broken water main? You name it, these rugged large size plastic barricades control traffic with REAL authority. Heavy I-Beam boards, A-Frame legs, Available in 6, 8, & 10 foot lengths with Engineer, High Intensity or Diamond grade Reflective Sheeting.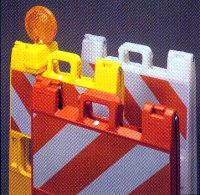 Portable Display Signs
Molded in handle for Flashing Light.
Very attractive and durable. Can be internally ballasted with sand. Changeable sign faces via "screw-in" feature. 100% plastic, no rust, no painting, no splinters